GutterShutter—Tough Enough to Withstand Impact
Though often easily forgotten, the gutters are a crucial component of any home. They provide an efficient way to safely remove water from your roof and are meant to protect your home and its foundation from a variety of elemental threats. Unfortunately, however, standard open trough gutters are often susceptible to damage, whether from fallen branches, hail, or even ladders. When a tree branch or other large debris hits standard gutters, they can become damaged and warped, reducing their overall functionality. This, ultimately, leaves your home more vulnerable to the elements and less effective in protecting your home.
If your gutter system has sustained impact damage, replace them with a sturdy system that is durable and built to last. GutterShutter Tri-State gutters are made with the thickest aluminum available, and are designed to be a maintenance-free and clog-free solution to protecting your home. With our GutterShutter system, you can say goodbye to any worries you might have about your gutters! Our elite GutterShutter system is designed to withstand impact damage from external forces, ensuring that your gutters are working properly in even the most intense weather. When we install the GutterShutter system to your home, you can rest assured knowing that your gutters are safe from nearly all instances of impact damage. Our system not only provides unmatched durability and a Lifetime No-Clog warranty, but the GutterShutter system is visually pleasing and comes in a variety of colors to match your home's aesthetic.
If you're tired of climbing up on a ladder to clean your gutters or worrying about whether the next big storm might end your gutters for good, then GutterShutter Tri-State is here to help you. It is our mission to help all of our neighbors in the Cincinnati area find the highest level of gutter quality for their homes. Reach out to us today for your free estimate and experience the GutterShutter difference!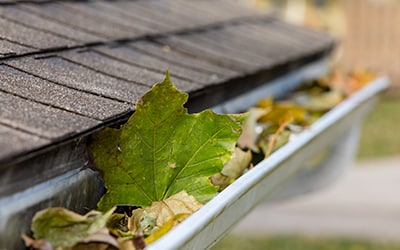 Contact GutterShutter for a FREE Inspection
Looking for a gutter system that outperforms the ordinary? Contact our GutterShutter replacement company in Cincinnati today! We offer gutter cover installation services with the purchase of our product.