The Cure for Clogging Gutters
The gutters of any home are crucial for keeping the building as protected as possible from water damage by removing the water safely from the roof and directing it away from the foundation. When your gutter system is not working to its full potential, then issues may arise and any number of water-related incidents may occur. One of the most common issues that homes and homeowners face with regard to this is clogged gutters. When gutters are clogged, they simply can't perform their intended task, and that's when issues begin to manifest. Luckily, there is a solution to keep gutters free from debris, without the hassle of climbing on a ladder and manually cleaning them.
Though regular cleaning is proven to help significantly with the issue of clogged gutters, there is an easier way. Gutters become clogged for a number of reasons, such as debris like sticks and leaves getting caught in them and even animals nesting in them. No matter the cause of your home's gutter clogging issues, we here at GutterShutter Tri State have the solution.
Our GutterShutter System was designed with clogged gutters in mind. We knew we wanted a permanent solution that would work properly and provide benefits for the lifetime of the house, and the GutterShutter System does just that. The perforated flow reducing hood completely prevents gutters from becoming clogged, ensuring that your gutters are always working as intended. And, with the fully covered GutterShutter System, clogs and leaks are a problem of the past as this system has been designed to provide a clear route for water to flow through. Put your mind at ease and know that your gutters are always working properly with the GutterShutter System! Contact us today for your free estimate, and we'll show you what a GutterShutter System can do for you!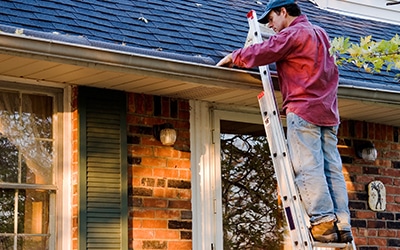 Contact GutterShutter for a FREE Inspection
Looking for a gutter system that outperforms the ordinary? Contact our GutterShutter replacement company in Cincinnati today! We offer gutter cover installation services with the purchase of our product.