GutterShutter Installation Services
When we install GutterShutter on a new home, we want to make sure they'll last a lifetime. Our gutter guard and seamless gutter installation services in the Cincinnati area all start with a free inspection. Then, once you've decided GutterShutter is the right choice for you, we'll plan an installation day that's convenient for you. Finally, in the event an issue should arise, our team will show up to fix it.
Step 1: The Inspection
Every project we take on begins with an entirely free inspection of your current gutters. One of our representatives will come to your home and take some measurements. Then, they will sit down with you, answer any questions you may have about the GutterShutter system, and provide a quote for installing the product on your home.
Step 2: Installation Day
Ensuring a secure attachment to the home is the most important facet of any gutter system. This is why we use our specialized GutterStud brackets when we provide gutter guard installation services throughout Cincinnati and the surrounding communities. Unlike standard systems that use inexpensive plastic or glass-filled polypropylene brackets, our GutterStuds are made of mostly virgin nylon material. This means they'll age well and won't shift or break down due to harsh weather conditions. The GutterStuds attach the seamless gutter system to your Cincinnati home's fascia board using two 3-inch galvanized screws—no nails or rivets—and they're spaced two-feet apart all the way down every side of your home. This process ensures your fascia board is protected from moisture, so the system will never pull away or detach from your home. Our installers are all factory trained for perfect applications on every home, because the best way to ensure happy customers is to ensure proper GutterShutter installation.
After a successful installation day, there's a good chance you'll never have to see our team again! However, in the event that an issue arises, our Cincinnati based gutter guard installation services team will be able to assist you in a timely manner.
Step 3: Handling Issues
Should your system have an issue, call our team immediately. We'll send a technician out to your home where they'll take note of the issue or issues you've noticed. From there, they can diagnose the problem and provide a solution for you.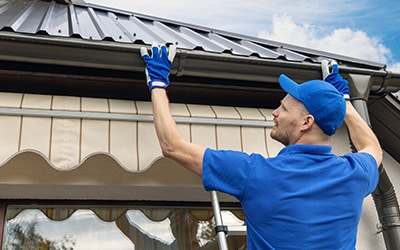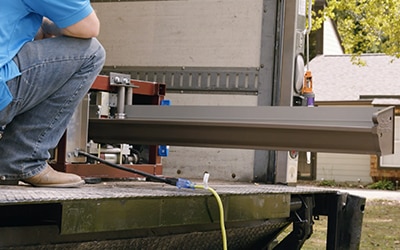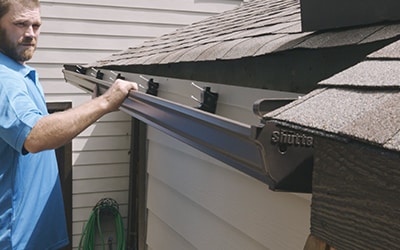 Contact GutterShutter for a FREE Inspection
Looking for a gutter system that outperforms the ordinary? Contact our GutterShutter replacement company in Cincinnati today! We offer gutter cover installation services with the purchase of our product.