Is Your Gutter System Pulling Away From the Fascia?
The GutterShutter System Is the Answer!
Gutters are a crucial component of your home because they direct water off of your roof and safely away from the foundation of your house. When they work properly, they help to protect your property from foundation damage, soil saturation and erosion around the foundation, and water damage. But even when they are working correctly, they are prone to clogging, leaking, and pulling away from the fascia, which can lead to wood rot.
Classic gutter systems are installed directly onto a building's fascia boards. One of the most impactful forms of damage comes from when the gutters pull away from the fascia boards after years of wear and tear or after a bout with severe weather. When they begin to pull away from the fascia, water can enter behind the fascia, soaking the wood and causing significant damage to your home's structural integrity. GutterShutter Tri-State set out to create a system that eliminates the possibility of this problem from occurring. The GutterShutter System is installed with a high-back, extra-deep trough, which covers the fascia board and ensures water doesn't infiltrate behind the gutters. With this trough, the GutterShutter System collects all water and prevents water damage behind the fascia.
With the GutterShutter System, our experts install the system with techniques that ensure the gutter system can't pull away and leave gaps between the gutters and the fascia board. This means that you'll never have to worry about your gutters moving out of place, causing water damage to the structure. Their position remains secure and the gutter system remains in proper working order. Pulling away from the fascia is one of the most prominent issues typical gutters face. GutterShutter Tri-State is proud to offer an innovative solution that resolves this common problem. In addition, our patented design allows rainwater to flow freely into the gutter system, while blocking debris such as leaves and twigs, so you'll never have to clean your gutters again! The GutterShutter System comes with a Lifetime No-Clog warranty and a 20-year manufacturer's warranty.
GutterShutter Tri-State offers free inspections and free estimates. Contact us now to schedule your appointment!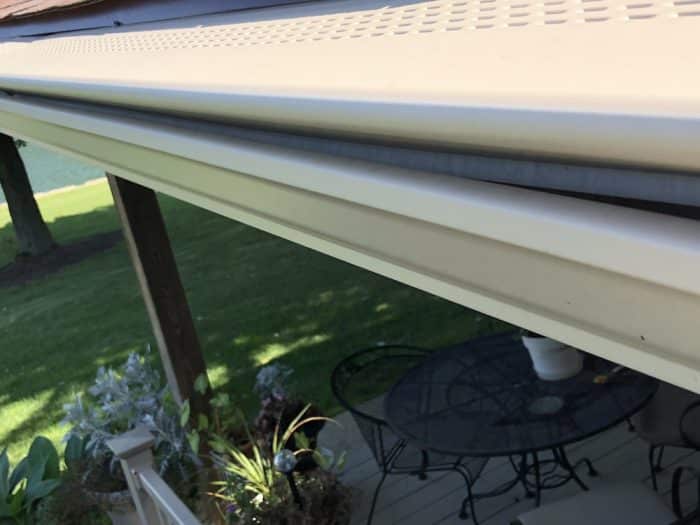 Contact GutterShutter for a FREE Inspection
Looking for a gutter system that outperforms the ordinary? Contact our GutterShutter replacement company in Cincinnati today! We offer gutter cover installation services with the purchase of our product.