GutterShutter System: Clog-Free Gutters in Ohio & Surrounding Areas​
Clog-Free Gutters for Good
For nearly 20 years, our Dayton based gutter replacement and gutter cover installation company has been installing this system throughout Ohio. Standard gutters are entirely open, which makes sense for collecting rain, but less sense when you think about all the other junk that finds its way into your gutters. Our award-winning system collects only rainwater, allowing sticks, leaves, and other debris to flow right over the edge and onto the ground where it belongs.
Our expert installation techniques also ensure your system will never pull away from your home, leaving gaps between the gutters and the fascia board. This is a common issue with standard open trough gutters, and it can lead to big problems. When a gap appears between your gutters and your fascia board, moisture finds its way into that space quickly. From there, it seeps into the fascia board and, eventually, that will lead to moldy or rotten fascia. Plus, the installation techniques used by our Dayton based gutter replacement company don't disrupt anything at the roofline, so any existing warranties you have on your shingles or roof work won't be affected.
There are five unique parts to our system that set it apart from traditional gutter options.
High-Back, Extra-Deep Trough: The high-back system covers the entirety of the fascia board to ensure it's fully secured to the home and water cannot escape behind your gutters. The extra-deep trough allows GutterShutter to catch all rainwater. No more heavy rainfall sheeting over your clogged gutters and pooling near your foundation.
Connective End Caps: To connect the protective hood to the trough, we needed a way to ensure the pieces fit securely together. Our patented end caps were the solution! They ensure no gaps will appear between the hood and the trough to ensure no debris enters the system.
Perforated Flow Reducer Hood: The flow reducer hood is our solution for keeping debris out while letting water into your gutters. Water flows through the holes and over the edge of the hood and into the trough by using surface tension.
Durable GutterStud Brackets: The brackets that attach our gutter system to the home are built with extra strength and durability. Space is measured between each GutterStud to ensure superior performance.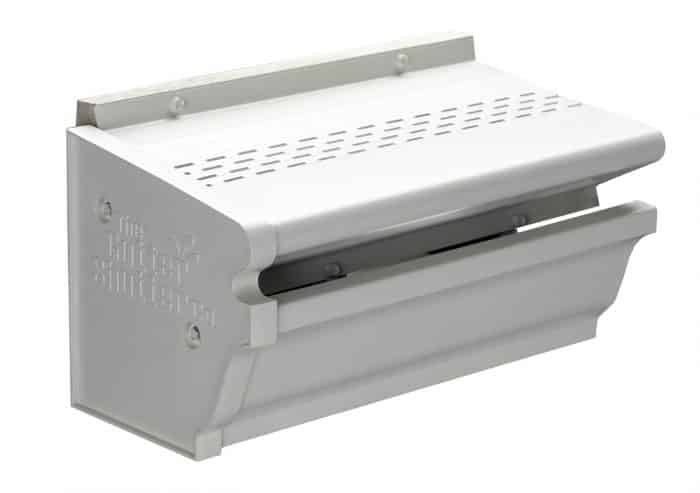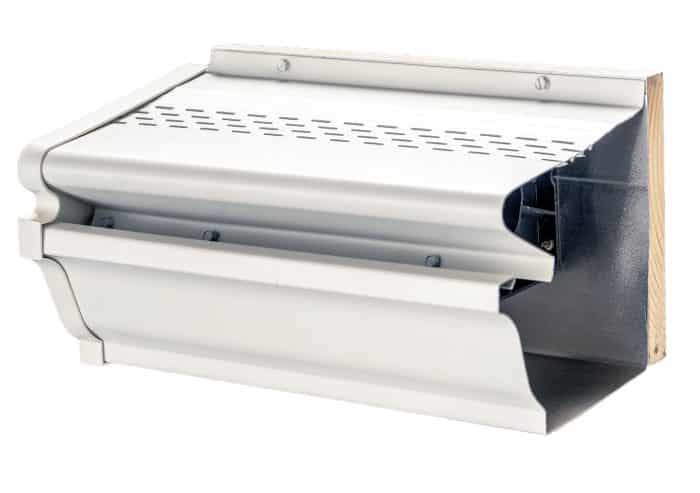 Contact GutterShutter for a FREE Inspection
Looking for a gutter system that outperforms the ordinary? Contact our GutterShutter replacement company in Dayton today! We offer gutter cover installation services with the purchase of our product.